A step-by-step guide to obtaining permanent residence in Canada under the Federal Skilled Worker Program.
The Federal Skilled Worker Program (FSWP) was the primary immigration avenue for skilled workers to immigrate to Canada between its inception in 1967 and the outbreak of the pandemic. Express Entry invitation rounds for FSWP candidates are slated to resume in July, following a temporary hold that has been in place since December 2020. In addition, the processing time for new applicants is projected to be reduced to six months.
The FSWP is an appealing immigration route since candidates can become eligible even if they have no Canadian experience and no job offer.
People who are eligible for the FSWP receive a score on the Comprehensive Ranking System as part of a programme controlled by the Express Entry system (CRS). Immigration, Refugees, and Citizenship Canada (IRCC) hold Express Entry draws roughly every two weeks, asking the top scorers to apply for Canadian immigration.
The following is a step-by-step approach to applying for Canadian immigration via the FSWP:
Step 1: Meet the FSWP's eligibility requirements.
Potential candidates must meet the minimal standards for employment, language skills, and education in order to be qualified to apply under the Federal Skilled Worker Program. You must also achieve a score of at least 67 on the program's 100-point grid.
The following are the minimum requirements:
One year of continuous full-time or equivalent paid work experience in a skilled occupation defined as National Occupational Classification (NOC) skill level 0, A, or B in the previous ten years;
Validated language ability in English or French equivalent to Canadian Language Benchmark (CLB) 7 across all abilities (reading, writing, listening, and speaking); and a Canadian educational credential (certificate, diploma, or degree) or foreign credential and Educational Credential Assessment (ECA) report.
FSWP applicants must score at least 67 points out of a possible 67 points on the IRCC's six immigration selection factors. The table below indicates how many points candidates can earn in each category.
FSWP grid
| | |
| --- | --- |
| Factors | Points |
| Education | Up to 25 |
| Language Skills | Up to 28 |
| Work Experience | Up to 15 |
| Age | Up to 12 |
| Arranged employment | Up to 10 |
| Adaptability | Up to 10 |
You can enter the Express Entry pool once you meet the eligibility requirements.
Step 2: Fill out your Express Entry profile and upload it to the IRCC website.
Create an IRCC secure account and follow the instructions on the government website. The online tool will urge you to create an Express Entry profile, enter your unique reference code, and enter your personal information.
You have 60 days to finish and submit your Express Entry profile or you will have to start over.
Once you've completed your profile, you can submit it and IRCC will determine which Express Entry programme you qualify for.
If you are eligible for the FSWP, IRCC will place you in the Express Entry pool alongside other eligible applicants. You will be assigned a score based on characteristics such as work experience, education, age, and proficiency in an official language.
Step 3: Request an Invitation to Apply (ITA) for Permanent Residence.
Completing an Express Entry profile online does not guarantee that you will be invited to apply for permanent residence. You must have a high enough score to achieve the minimum threshold in each Express Entry draw.
Prepare for an ITA from IRCC while you're in the pool. If you obtain one, you will have 60 days to complete your application. Every two weeks, the IRCC runs Express Entry drawings.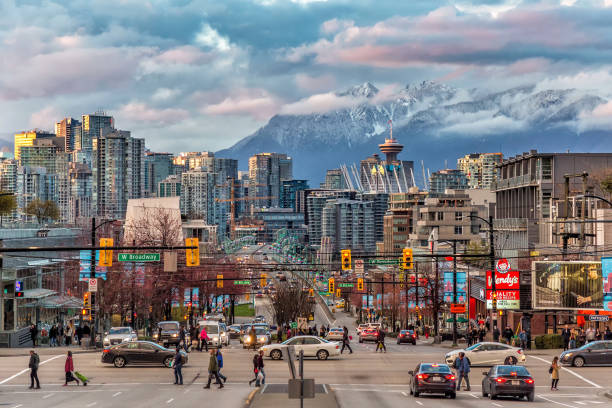 (Image Source:- Google)
Step 4: Apply for immigration if you receive an ITA.
If you receive an ITA, IRCC will notify you of which programme you have been invited to and what you need to do next. Candidates are immediately invited to apply under one of the Express Entry-managed programmes in the following order: Provincial Nominee Program (PNP), Canadian Experience Class (CEC), FSWP, and then Federal Skilled Trades Program (FSTP).
IRCC will request verification of the information you provided in your Express Entry profile. Officers will determine whether the information you supplied in your application differs from your profile. If they discover fraudulent information or essential details missing from your application, they may reject it, find you inadmissible, or prevent you from applying for immigration for five years.
To confirm that you are still qualified for the programme for which you have been invited to apply, IRCC suggests that you examine the criteria for the programme for which you have been invited to apply. If your personal circumstances change, you may need to recalculate your score before applying. If your recalculated score is lower than the minimal CRS cut-off for your round of invitations, IRCC advises you to decline the invitation.
If you decline an invitation, you will be returned to the Express Entry pool of candidates and may be considered for future invitation rounds if you are still eligible. It has no bearing on whether you are invited to apply later. Although there is no certainty that you will be invited to apply again, you may be able to increase your chances by revising your Express Entry profile or obtaining a higher CRS score.
If you do not react to your ITA within 60 days, IRCC will remove your profile from consideration. To be considered for future draws, you must create a new Express Entry profile.
Other Methods of Immigration
Another important immigration programme is the PNP. According to the 2022-2024 Immigration Levels Plan, Canada expects to admit more than 80,000 PNP candidates as permanent residents each year over the following three years. In addition, IRCC continues to perform Express Entry lotteries every two weeks for PNP candidates.
If you are already in the Express Entry pool, you may be asked to apply for a provincial nomination. If you are nominated, 600 points will be added to your score, and you will be allowed to apply for immigration as a PNP candidate.
Conclusion
Since 1967, the FSWP has been a key means of attracting immigrants to Canada. Despite the fact that the FSWP has been hampered by the epidemic, World Education Services surveys indicate that interest in immigration to Canada remains high.
Canada's borders have reopened, and the IRCC's Express Entry backlog has been reduced. This means that when Express Entry draws resume in July, the FSWP will once again play a vital role in attracting more skilled immigrants to Canada.
CHECK YOUR ELIGIBILITY FOR CANADA PR VISA